By SA Editor Michelle Carini :
Welcome to the latest edition of the Energy Recap. Please note that there won't be an Energy Recap next Friday, Dec. 22, ahead of the holiday. It's just a brief hiatus, as the recap will return Friday, Dec. 29. Just like last year, that article will be a year-end type of review – so stay tuned.
Now, on to the articles…
Energy Articles of Note
" Ensco DS-12 Fails To Find Gas Or Oil For Kosmos Energy (Again) " By Vladimir Zernov
" Hartstreet: Whiting Bakken Well Design Improvements Increases Oil Production Per Foot " By Michael Filloon
" Shale Oil Myths: 'The EIA Is To Blame For The Exploding Brent-WTI Differential '" By Richard Zeits
Energy Sector Bankruptcies for the Week Ended Dec. 15, 2017
Here's a list of the most recent bankruptcy announcements in the energy sector:
– On Thursday, Dec. 14, Cobalt International Energy ( CIE ) filed for Chapter 11 bankruptcy, a month after warning of a possible reorganization. (Hat tip to SA authorRaw Energyfor this one.)
Feel free to add anything that we might have missed in the comments section below.
U.S. Oil Rig Count
As per Baker Hughes , the number of active U.S. oil drilling rigs declined this week.
Weekly Natural Gas Storage Report and Summary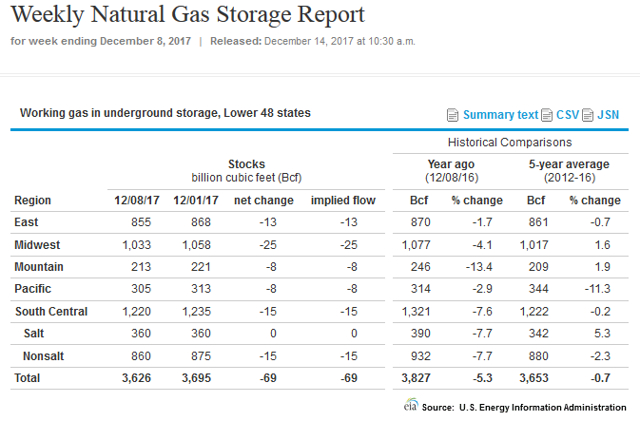 Natural Gas Rig Count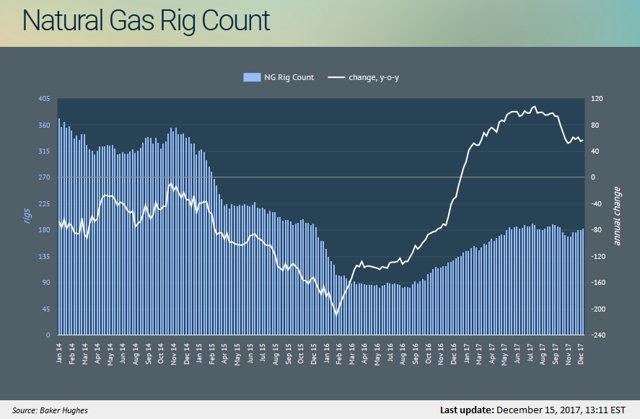 Oil Production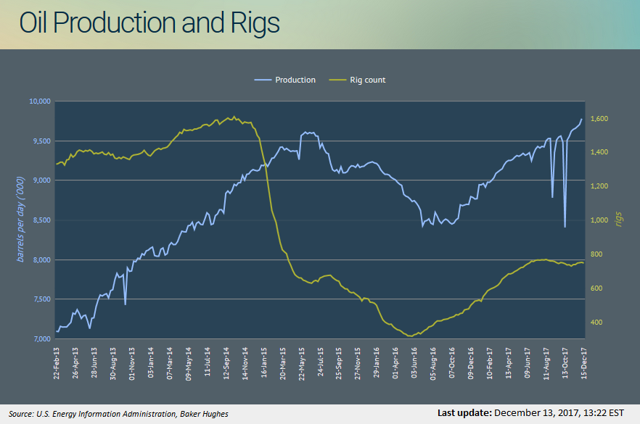 As always, we encourage you to submit your own article by clicking here , if you haven't already done so.
See also ECB Pulls Off A Non-Event on seekingalpha.com

The views and opinions expressed herein are the views and opinions of the author and do not necessarily reflect those of Nasdaq, Inc.