[ccpw id="6606″]
Stocks moving higher and bonds selling off is a positive sign. The jump in interest rates, with Treasury yields moving higher, has not fazed the stock market yet. The 10-year yield has risen above 3 percent and was at 3.07 percent Thursday.
"Stocks are outperforming bonds. That's the ultimate in risk appetite," said Sohn. Treasury yields move opposite price.
The S&P 500 zipped past its recent high of 2,916 and was around 2,930 Thursday.
While finanicals picked up, a laggard was the S&P utility sector, off off 0.3 percent Thursday and down 2.2 percent for the week. The sector is viewed as a safe haven, and the sector's high dividends are viewed as a good place to find yield.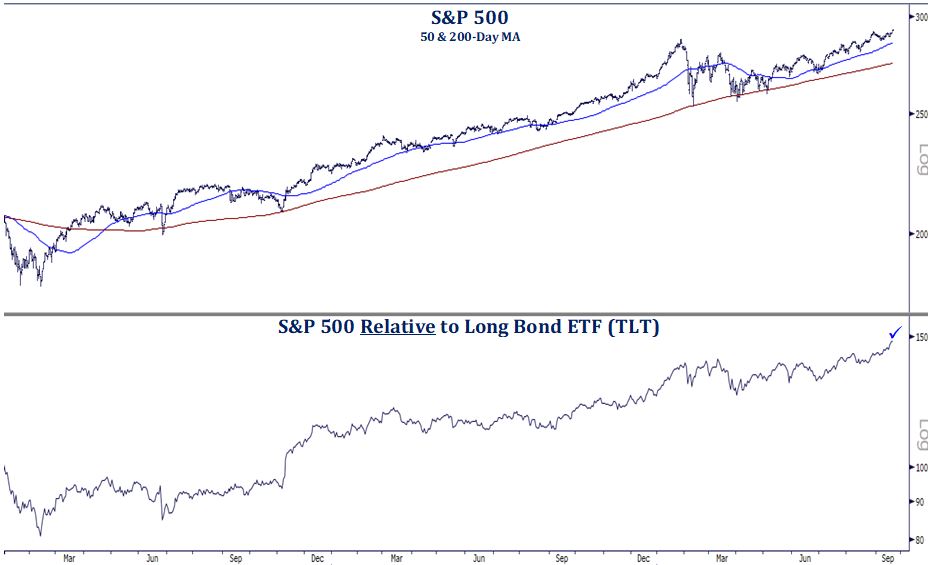 Source: Strategas Research
Sohn said it's not clear at what point bond yields would challenge the stock market, but he believes it would take a yield well above current levels.
Just the fact that the Dow has caught up with the S&P and other indices that have made new highs since January and February's stock market sell off is a positive. Redler said the Dow joining in shows more broad based buying. That is important, with the market hitting highs even without FANG—Facebook, Amazon, Netflix and Google—in the lead.
"If the S&P closes above its high, the first push would go to 2,940," said Redler. "It could work its way up to 3,000 in the fourth quarter."
Original Source