Sharp Credit – Credit News – Credit Information



Ripple prices up 16.3 percent
InterLedger Protocol (ILP) is a game changer.
The team behind InterLedger Protocol (ILP) are not slowing down, and now that we have a fiat connector, it's only a matter of time before the benefits of a real Internet of Value begins to permeate. With optimism around interoperability, we expect Ripple (XRP) prices to increase towards 80 cents.
Ripple Price Analysis
Fundamentals
Here's what InterLedger Protocol can do. The Ripple innovation can connect banks, mobile money platforms, stock exchanges, clearing houses and different ledgers. By ledgers, I mean blockchains like Ethereum, Bitcoin, Bitcoin Cash or any other network of choice. And it is true. InterLedger Protocol or simply ILP is "an open protocol suite for sending payments across different ledgers. Like routers on the Internet, connectors route packets of money across independent payment networks. The open architecture and minimal protocol enable interoperability for any value transfer system. InterLedger is independent of any one company, blockchain, or currency."
From this, it is clear that ILP is what will eventually bring value to the largely fragmented blockchain. Note that there are more than 2,000 blockchain projects each with different value propositions. However, it is this differentiation that is draining value, but with a solution that connects them allowing for interoperability, then we shall have one big valuable network.
#StreamingPayments @Interledger #demo by @kava_labs @KevinJYDavis swap BTC, ETH and XRP using Interledger SDK Switch pic.twitter.com/e3qpD0xzEQ

— Vanessa Pestritto (@vanessadice) April 5, 2019
That is the motive behind ILP development, and just recently, the team did launch the first fiat—ILP connector, a big step towards mass adoption and fusing crypto and traditional financial systems. Announced by Vanessa Pestritto of Xpring and demonstrated by Stefan Thomas of Coil and co-founder of ILP, the team is on the way creating an independent Internet of Value (IoV) that is easy to use.
Candlestick Arrangements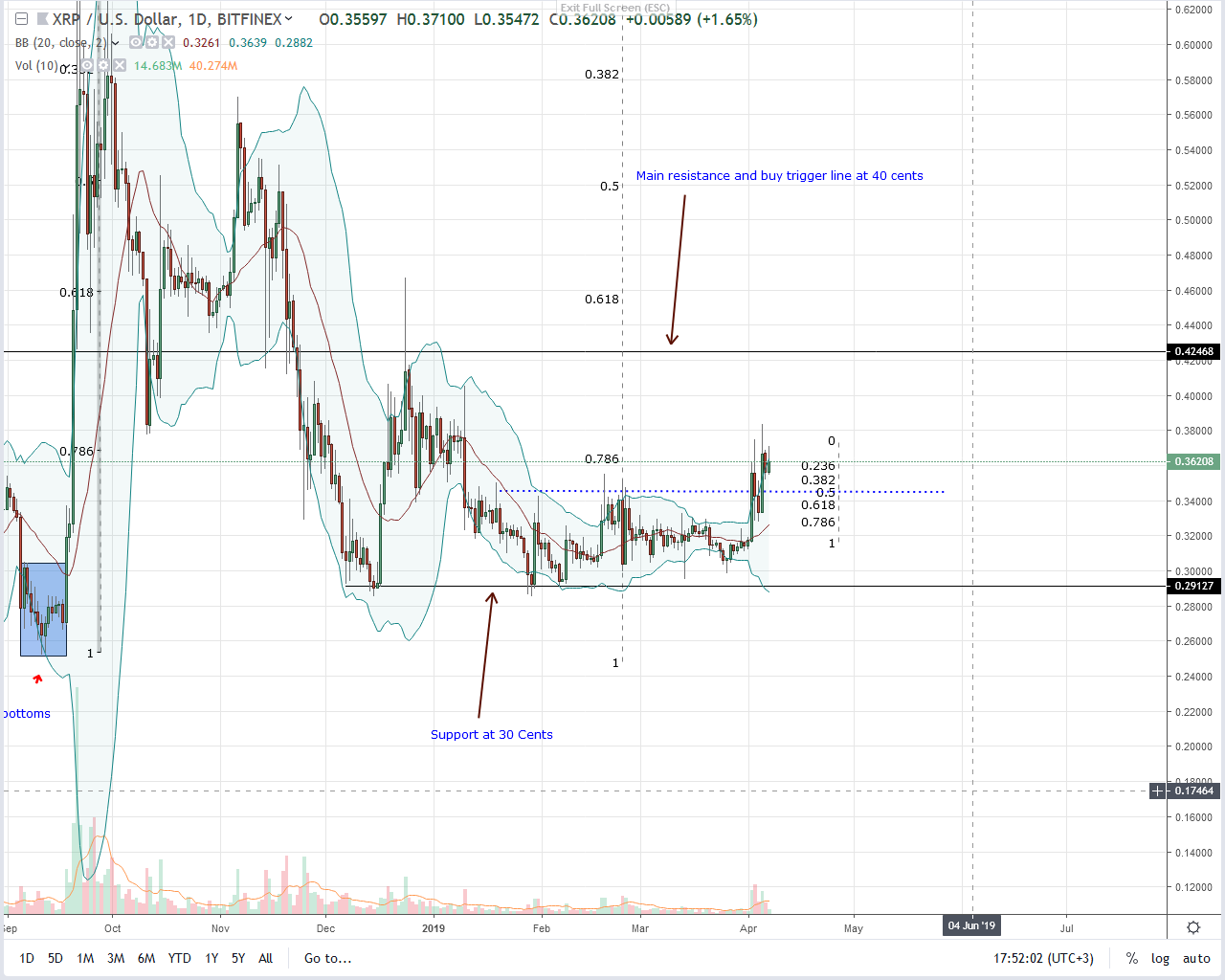 Like most coins, Ripple (XRP) is on an uptrend, at third and up 16.3 percent in the last week. Even though the coin valuation is up, XRP is underperforming and didn't satisfactorily tap Bitcoin price revival.
Nevertheless, we expect bulls to be in charge, driving prices above 40 cents now that XRP is trading within a minor bullish breakout pattern against the USD after clearing 34 cents. Affirming our bullish stance is the strong support at 30 cents and Apr 5 bull bar rejecting bearish attempts of Apr 3-4.
Price surge of Apr 5 did confirm buyers of Jan 30, and after a deep correction, bulls of Sep 2018 are back ready to propel prices to 40 cents, 60 cents and later 80 cents.
Technical Indicators
Our anchor bar in days ahead is Apr 3 bar with 97 million. Although bearish, countering the general bullish trend, the bar is trading with tight range countering flows of Apr 2. Moving on, we expect buyers to be in control and any break above 40 cents ought to be with volumes exceeding 97 million and be wide-ranging.
Chart courtesy of Trading View
Original Source